HOLY SHIT and OMG.
The Ed Banger crew is having a birthday bash for their 6 and 1/2 year birthday.
The celebration is going to be in London *as always London gets the amazingest crap ever* The performance is going to be on Friday, July 10 at the Coronet Theater.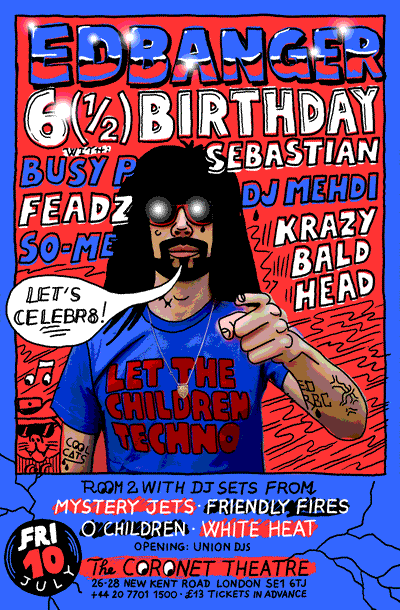 Busy P is bringing a large chunk of the Ed B crew including: DJ Mehdi, SebastiAn, Feadz, So Me, and Krazy Baldhead doing a live show. This line up is incredible.
And in addition to this incredible lineup of Ed Banger artists, there shall be DJ sets from other amazingly dope artists! Such as Mystery Jet, White Heat, O Children , and *Friendly Fires*

GASP. OMFG. This is going to be Insanity. Get your tickets now! They are £13 in advance!

Click Here To Get your tickets now!!

Wow. 6 (1/2) years of Ed Banging. Well done crew. Well done.

- Cassidy