Alrite folks, I know this is a looong time overdue considering it's past the release date. But time has been a beast lately! Anywho, I had to scream about this album.

It's incredible, and a long time due!
A little bit about Mr. Baldhead...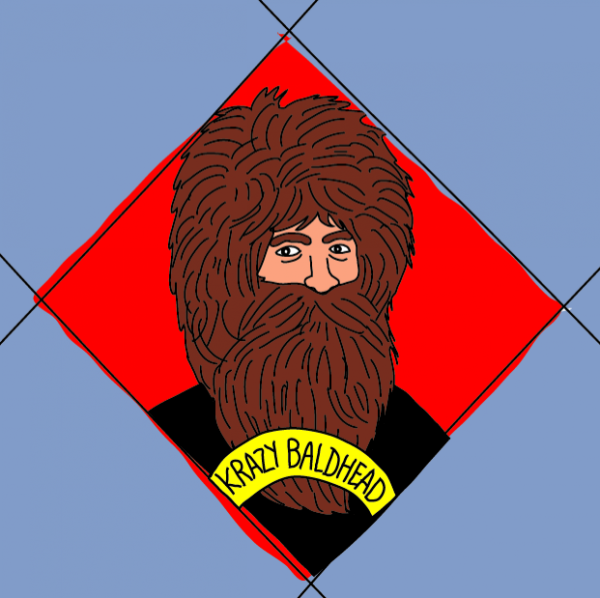 Lemme start with this. First of all Krazy Baldhead is a very musical man, transcending more than just mind blowing electro beats like our other Ed Banger loves. Krazy B. attended many classical concerts and played piano as a youth, which inspired him to start creating his own electro beats. His influences consist of old school hip-hop and jazz compositions, which can easily be heard in his DJ sets. Mr. B also works on a side project called Donso, which is an infusion of African Mali rooted music and electro.
Back to the Album....
The first thing you see when looking at the lineup oftracks is how everything is labeled in movements. And it's for good reason, all the tracks have differently intertwined beats from the next, no one is like the other.They all hold a strong instrumental grip, which is maybe why I like this album so much. The album carries a passionate, eclectic tone, which truly reflects on the influences Krazy B has cited before. I thought his past two EP's were good, but this is just a brilliant instrumental delight.
My fave track on the album is 3rd Movement Part 3 (aka "Sweet Night" ft. Outlines)

But what is really gold, is the Club Remix! The Ed Banger Crew sent it out this month as a lovely freebie through their monthly newsletter. It's a sped, kooked up mix of the already fun track.
Ultimately, the album is pretty scattered. With different tracks grabbing and groping into all types of mini genres.

Just like the Ed Banger crew said: "Is it an electro album? Is it a hip-hop album? It's up to you to estimate."

Krazy Baldhead will be playing Europe live this Spring! The 24/25th will be with fellow Ed Banger and lucky boy DJ Mehdi. Here are the dates for the 2009 tour:
10th April Lille

11th April B-Suite Release Party Point FMR Paris

12th April First Lyon
23rd April Prostitutes and Policemen Manchester
24th April Carling Academy Oxford
25th April Wax-on Leeds
1st May Rocker 33 Stuttgart
9th May Paradiso w/MSTRKRFT (DOPE!)
5th June Debaser Malmo 6th June Plaza Umea
13th June Rockness Festival Scotland
19th June Low Club Madrid
20th June Lolita@ The Loft SONAR Barcelona
- Cassidy